Bali Rafting Tours is best online rafting operator in Bali which is offer rafting in Ayung River, Telaga Waja River and Melangit River. We are managed by Duta Kencana Tour and Travel, a professional tour operator in Bali. We are delighted to serve you all the rafting activities in Bali, also we can combine with tours and other activity in one day and we commit to provide you with our best services to make your dream come true.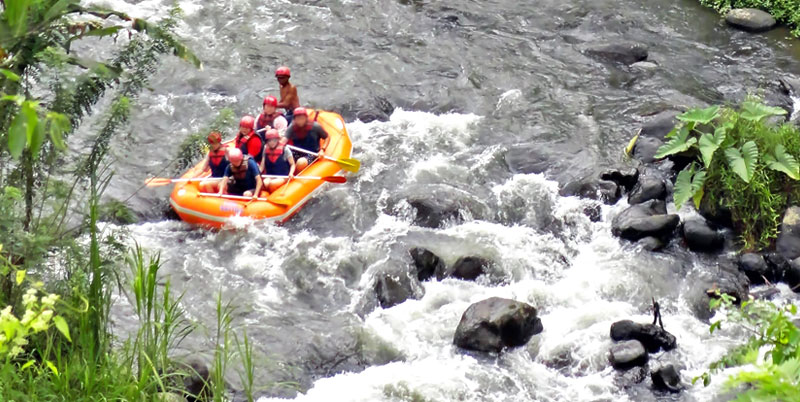 Our aim is to make your visit to Bali most enjoyable holiday with wide selections of adventure and you could have many wonderful memories of our beautiful Island of Bali. The memories that you take home are the very reason why you will want to return to Bali as soon as possible.
We committed to make your holiday as pleasurable and hassle free as possible, so that when you return to Bali you will come again choose Bali Rafting Tours as your preferred booking agent for rafting experience and tours. We offer the best prices on our every product and our prices have been assigned based on discounted rated for all travelers and give them an aid to keep away from the tiredness cause of bargaining system.
Why should choose Bali Rafting Tours ?
BENEFITS :
• Wide selections of rafting combine with activity and tours
• Your tours & activities are provided by professional and reputable adventure companies
• We offer very competitive rates only USD 35 Per Person
• Easy booking and quick confirmation
• No Booking Fee and No deposit, all payments could be made on the spot
How To Book And The Booking Process :
THE BOOKING PROCESS :
• Complete The Booking Form to send your request
• Discussion, we answer all your questions regarding your inquiry
• Confirmation, we send your booking confirmation by email when all clear
• No booking fee, no deposit require from the activity or tour that you requested
• Payments, for the activity you may pay upon arrival at our rafting location by cash or credit card
PRIVACY POLICY :
• Your reservation is absolutely secure, all personal data is encrypted and will be processed in a secure way. Bali Rafting Tours takes the privacy of your personal data very seriously. Your personal information will only be used to process your booking.
Booking Form
Please complete the form below for general inquiries of your tour or activity