Bukit Jambul Rice Terrace is one of the best rice terrace in eastern part of Bali island, this tourist destination is very famous and it was a stop point on Besakih Temple Tour Program. This place is also supported by the existing of local restaurants offering best selection of Indonesian and international menus for tourists who visit it. The tourist will be pampered by the beautiful scenery with amazing panorama including the fresh tropical atmosphere sweep the entire area.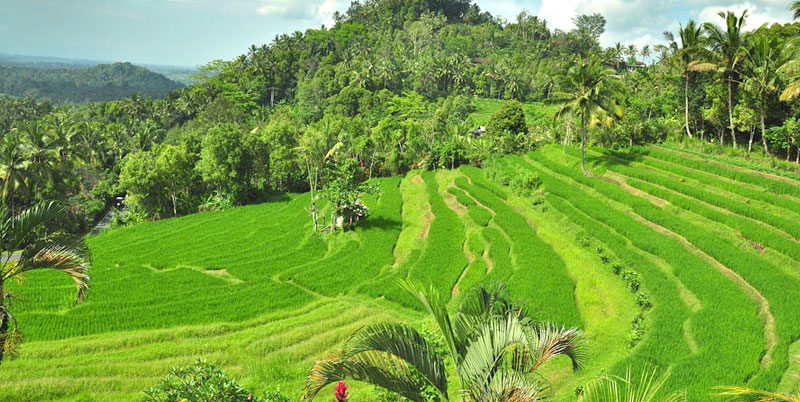 Bukit Jambul Rice Terrace name first given by a tourist at the time of the invasion of the Netherlands to Indonesia. Bukit Jambul is known as a wonderful destination for a harmonious combination between the hills, fields, valleys, and beautiful sea panorama. From the height of the hill we can see the natural beauty beneath. Bukit Jambul has enough cool air. From the above we can see the expanse of hills and valleys with the terracing rice acreage mix.
Our eyes are also pampered with a sea view is visible from above of Bukit Jambul Rice Terrace, from the distance we can see the group of Nusa Penida islands. On the lane winding and uphill, we could see the storied field and clove trees are fertile. Sidemen east region would look towering hill, look south we will see paddy field area of Klungkung District and surrounding. At the top of the hill there is a temple called Puncak Sari Temple which is surrounded by large trees.
Meanwhile, under the temple complex there panoramic rice fields are very beautiful and cool. While enjoying the beautiful natural scenery, we can relax in the Coffee Shop or restaurant there. Bukit Jambul Rice Terrace is many visited by tourists who stop off by going to the Besakih Temple or on his return from Besakih Temple.
Parking Fee : IDR 5,000