Kerta Gosa part of the Puri Semarapura royal palace and features two main structures, a grand hall or the namesake Bale Kertha Gosa with ceilings filled with Kamasan or wayang style paintings, and the Bale Kambang floating hall. Kertha Gosa complex dates back to 1686 when it was commissioned by Dewa Agung Jambe, then ruler of the Klungkung kingdom. Kertha Gosa has undergone a series of restorations in the past and is one of Bali most important historical sites, the site is open for the public to visit.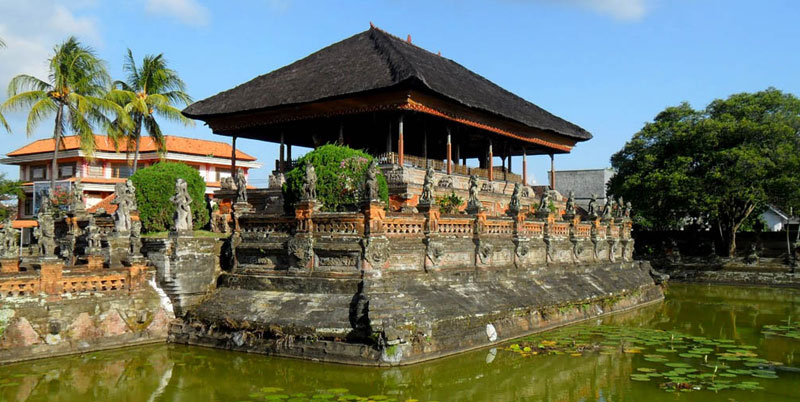 Taman Gili Kerta Gosa features spacious and open halls inside a walled compound. Unique and traditional Balinese architecture can be seen throughout the gates, walls and main structures, and the main distinctive highlight of Kerta Gosa are the painted ceilings in the halls. These paintings feature a technique often described as Kamasan style. Kamasan itself is a village in Klungkung that has become renowned for its typical style of paintings of wayang or traditional Balinese shadow puppetry figures.
Kamasan paintings generally take inspiration from notable Hindu epics such as the Ramayana or the Mahabharata. Kamasan style can also be found in temples, the paintings that adorn the ceilings of the Kerta Gosa halls were made on textile, yet a series of restoration projects carried out in 1930 had the pieces repainted onto plasterboards. The paintings depict spiritual teachings and guidance.
When studied in detail, each of the pieces tells a different tale, one section may be of karma and reincarnation, and others of each phase of the human life from birth to death and the path to Nirvana. The Bale Kambang is surrounded by a moat, the paintings on its ceilings depict the tales from an old Javanese Sutasoma epic, with Prince Sutasoma as its protagonist.
Both sides of the bridges towards this floating hall are adorned by guardian statues that depict characters from the epic and all surround a moat filled with lotuses. The hall structures served as a main place for the royal family to conduct important rituals and rites of passage. It also served as a court during the Dutch occupancy in Klungkung from 1908 to 1942.
During the battle against the Dutch military expedition that came to be known as the Puputan Klungkung fight to the death which occurred on 28 April 1908, the last ruler, Dewa Agung Jambe, and his followers died. The accounts of the battle are inscribed at the Puputan Klungkung monument which can be seen at the intersection from the north-eastern hall.
The raised position of the hall also provides a vantage point over the monument. After the defeat, the inner courtyards of the Semarapura palace were destroyed. The remaining structures were these Kerta Gosa halls, with the Bale Kambang floating hall and the Taman Gili gardens. A museum displaying Klungkung history is within walking distance to the west of the Kerta Gosa complex and is also an included stopover on visits to the site.
Entrance Ticket : IDR 20,000