Telaga Waja Rafting is fantastic to raft down, perfectly accessible to beginners and professional. We offer extreme water sports, beautiful scenery of the rain forest, rice field, stone cliffs and water falls. In certain area of Telaga Waja River, you will get water splash from the water fall, and also you will get time to have a break in the middle of the rafting trip. During this break time, you can take your picture with friend and family or if you don't bring your camera, you can ask the photographer that provide by the rafting company.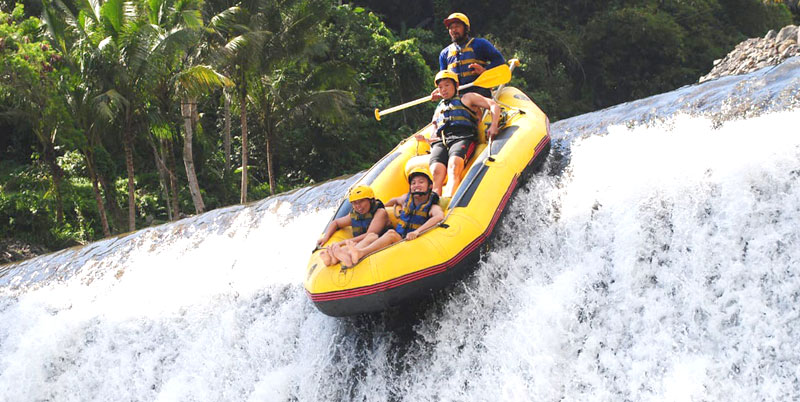 During your rafting trip, we are sure you will be amaze, excited and terrified by the scenery and rapids of Telaga Waja River. Telaga Waja Rafting will offer you 18 kilometer distance of rafting trip and 2.5 hours durations. Well trained rafting guide will ensure your youngest child had a safe and enjoyable trip, the rapid is not extreme but more than enough to boost your adrenalin.
Telaga Waja River is very appropriate for beginner, it's very safe, there is nothing to worry. Everything is very tolerable, from the raft impact on the rock and the rapids. There are easy access only less than 5 minutes walk to get the start point, In one raft will be maximum 4 rafter accompanied by 1 professional rafting guide. During the rafting you will pass some bamboo bridges, waterfall and the last action will jump at Bajing dam are 4 meters high.
Just following our rafting guide instruction until in the end of your adventures. Finish rafting, just a little walk to the shower and changing room facilities. After that, we will take you to our riverside restaurant for your lunch. Buffet lunch will served at our River side Restaurant with Indonesian Food and during lunch time you will see your adventures on photo's CD. After lunch, we will take you back to your hotel, and you will arrive around 15.30 PM.
Telaga Waja Rafting Price and Inclusions :
TELAGA WAJA RAFTING
Price :
• Adult :USD 35 (13 - 65 Years Old)
• Children : USD 30 (6 - 12 Years Old)
• Family Packages : USD 120 (2 Adult and 2 Children)
• Price are quoted per person for minimum booking is 2 person
• For afternoon trip minimum booking is 4 person
Price Include :
• Air-Conditioned Return Hotel Transfer
• Coffee or Tea on Arrival
• Safety Approved Rafting Equipment
• Professional River Rafting Guide
• Use of Towels and Shower Facilities
• Changing Room and Toilet Facilities
• Water Resistant Bag
• Buffet Lunch and Mineral Water
• Insurance Coverage
• 21% Service Charge and Government Tax

What to Bring :
• Rafting Outfit IT-Shirt or Swimsuit
• Short Pants and River Sandals
• Sunscreen is Recommended
• New Clothes for Change After Rafting
• Plastic Bag to Wrap Your Wet Clothes

Remarks :
• Get special price for a group booking
• If you would like to bring your valuable item, don't worry, you may ask your rafting guide to bring it for you and they will keep your valuable item on water-resistant protective bag. At the finish point, the staff there will display your pictures during your rafting trips, which is taken per boat that you use, if you would like to buy your pictures, please ask your river rafting guide.
• Telaga Waja Rafting is not suitable for pregnant women, people with heart problem, people is respiratory problem, currently has a sinus problem, recently has ear infection, has claustrophobia problem.

Morning Trip Pick Up Time :
• Nusa Dua and Jimbaran : 07.30 – 07.45 AM
• Kuta, Seminyak, Legian : 08.00 – 08.15 AM
• Canggu : 07.45 – 08.00 AM
• Sanur : 08.30 – 08.45 AM
• Ubud : 08.30 – 08.45 AM

Afternoon Trip Pick Up Time :
• Nusa Dua and Jimbaran : 11.45 – 12.00 PM
• Kuta, Seminyak, Legian : 12.00 – 12.15 PM
• Canggu : 11.45 – 12.00 PM
• Sanur : 12.30 – 12.45 PM
• Ubud : 12.30 – 12.45 PM
How To Book And The Booking Process :
THE BOOKING PROCESS :
• Complete The Booking Form to send your request
• Discussion, we answer all your questions regarding your inquiry
• Confirmation, we send your booking confirmation by email when all clear
• No booking fee, no deposit require from the activity or tour that you requested
• Payments, for the activity you may pay upon arrival at our rafting location by cash
PRIVACY POLICY :
• Your reservation is absolutely secure, all personal data is encrypted and will be processed in a secure way. Bali Rafting Tours takes the privacy of your personal data very seriously. Your personal information will only be used to process your booking.
Booking Form
Please complete the form below for general inquiries of your tour or activity