Ayung Rafting during dry season is great fun for the entire family, Just enjoy the wildlife as you meander down a safe river with great staff. If you would like to discover a hidden waterfall than you can find it here, scenery and wild life that you can get here such as rice field, jungle, kingfisher and water fall. If you do Ayung Rafting Bali than you will enjoy Bali rain forest and very well maintain rice field.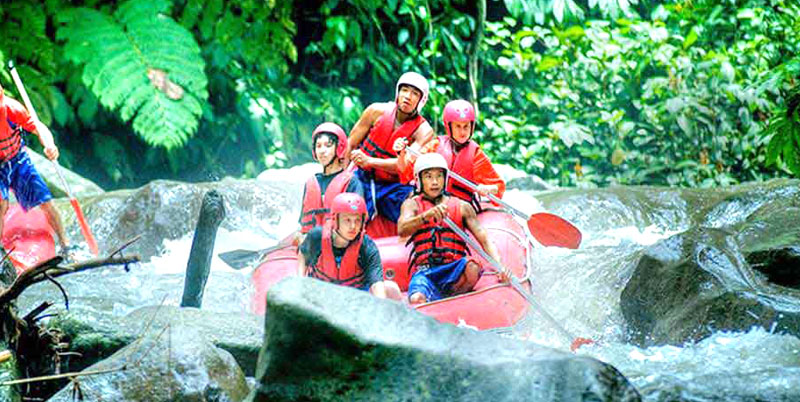 You may also able to see wild life on Bali rain forest such as beautiful Blue Javan Kingfisher. Ayung Rafting offer a very unique sensation that you won't get it on other places. The river has clear water and very fresh if you would like to swim, Ayung River has 10 kilometers route and 2 hours rafting adventure that you will get. The river offer class II – III level rapids which is very appropriate for beginner and children.
Professional rafting guide is always accompanied you and give you instructions on things to do during rafting. As long you follow their instructions and everything will run smooth. Your adventure in the water will end at the finish point and enjoy the lunch at the same time enjoy the nature of Ubud Bali. With the complete facilities and also supported by the staff which professional and skilled in this classic adventure tour hence adventure dream in Bali will be existed.
Ayung Rafting Price and Inclusions :
AYUNG RAFTING
Price :
• Adult : USD 35 (13 - 60 Years Old)
• Children : USD 30 (6 - 12 Years Old)
• Family Packages : USD 120 (2 Adult and 2 Children)
• Price are quoted per person for minimum booking is 2 person
Price Include :
• Air-Conditioned Return Hotel Transfer
• Welcome Drink on Arrival
• Safety Approved Rafting Equipment
• Professional River Rafting Guide
• Use of Towels and Shower Facilities
• Changing Room and Toilet Facilities
• Water Resistant Bag
• Locker
• Buffet Lunch and Mineral Water
• Insurance Coverage
• 21% Service Charge and Government Tax

What to Bring :
• Rafting Outfit IT-Shirt or Swimsuit
• Short Pants and River Sandals
• Sunscreen is Recommended
• New Clothes for Change After Rafting
• Plastic Bag to Wrap Your Wet Clothes

Remarks :
• Get special price for a group booking
• If you would like to bring your valuable item, don't worry, you may ask your rafting guide to bring it for you and they will keep your valuable item on water-resistant protective bag. At the finish point, the staff there will display your pictures during your rafting trips, which is taken per boat that you use, if you would like to buy your pictures, please ask your river rafting guide.
• Ayung River Rafting is not suitable for pregnant women, people with heart problem, people is respiratory problem, currently has a sinus problem, recently has ear infection, has claustrophobia problem.

Morning Trip Pick Up Time :
• Nusa Dua and Jimbaran : 08.00 – 08.15 AM
• Kuta, Seminyak, Legian : 08.00 – 08.15 AM
• Canggu : 08.00 – 08.15 AM
• Sanur : 08.30 – 08.45 AM
• Ubud : 09.00 – 09.15 AM

Afternoon Trip Pick Up Time :
• Nusa Dua and Jimbaran : 12.00 – 12.15 PM
• Kuta, Seminyak, Legian : 12.00 – 12.15 PM
• Canggu : 12.00 – 12.15 PM
• Sanur : 12.30 – 12.45 PM
• Ubud : 13.00 – 13.15 PM
How To Book And The Booking Process :
THE BOOKING PROCESS :
• Complete The Booking Form to send your request
• Discussion, we answer all your questions regarding your inquiry
• Confirmation, we send your booking confirmation by email when all clear
• No booking fee, no deposit require from the activity or tour that you requested
• Payments, for the activity you may pay upon arrival at our rafting location by cash or credit card
PRIVACY POLICY :
• Your reservation is absolutely secure, all personal data is encrypted and will be processed in a secure way. Bali Rafting Tours takes the privacy of your personal data very seriously. Your personal information will only be used to process your booking.
Booking Form
Please complete the form below for general inquiries of your tour or activity